Duplex Tahiche
from
209.000€ (£ 183.621 approx.)
Ref.PP-204696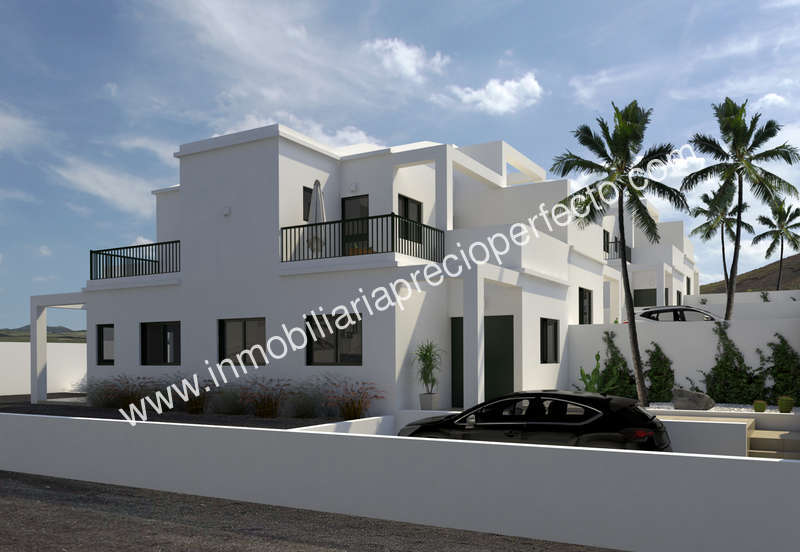 New 2 Storey semi-detached houses for sale in the village of Tahiche, municipality of Teguise, prices from 209.000 € to 238.000 €. The house are constructed at a high standard and are very spacious and bright located in a tranquil área They are sold with fully fitted kitchen with appliances and will be fully finished in May of 2019 House 1: Constructed área of 114,70 m2 in a plot of 328,60 m2 comprising of living room with dining space, separated kitchen, utility room, 3 bedrooms with fitted wardrobes, 2 bathrooms, 3 terraces and private parking. Price: 238.000 € House 2: Constructed área of 114,70 m2 in a plot of 253,70 m2 comprising of living room with dining space, separated kitchen, utility room, 3 bedrooms with fitted wardrobes, 2 bathrooms, 3 terraces and private parking. Price: 238.000 € House 3: Constructed área of 114,70 m2 in a plot of 259,60 m2 comprising of living room with dining space, separated kitchen, utility room, 3 bedrooms with fitted wardrobes, 2 bathrooms, 3 terraces and private parking. Price: 238.000 € House 4: Constructed área of 114,70 m2 in a plot of 318,15 m2 comprising of living room with dining space, separated kitchen, utility room, 3 bedrooms with fitted wardrobes, 2 bathrooms, 3 terraces and private parking. Price: 238.000 € House 5: Constructed área of 112,15 m2 in a plot of 302,25 m2 comprising of porch, living room, separated dining room, separated kitchen, utility room, 3 bedrooms with fitted wardrobes, 2 bathrooms and 2 terraces. Price: 232.000 € House 6: Constructed área of 112,15 m2 in a plot of 265,35 m2 comprising of porch, living room, separated dining room, separated kitchen, utility room, 3 bedrooms with fitted wardrobes, 2 bathrooms and 2 terraces. Price: 232.000 € House 7: Constructed área of 93,72 m2 in a plot of 232,40 m2 comprising of, living room with dining space, separated kitchen, utility room, 2 bedrooms with fitted wardrobes, 1 bathroom, 2 terraces and private parking. Price: 219.000 € House 8: Constructed área of 88,00 m2 in a plot of 213,30 m2 comprising of, living room with dining space, separated kitchen, utility room, 2 bedrooms with fitted wardrobes, 1 bathroom, 2 terraces and private parking. Price: 209.000 €
Size:100m² Plot size:300m² Bedroom/s:3 Baths:2 Garage Garden
Reference:
204696,
Size:
100m²,
Lounges:
1,
Built-in cupboards:
Yes,
Furnished kitchen:
Furnished with appliances,
Kitchen type:
Independent,
Bedrooms:
3,
Bathrooms:
2,
Terraces:
3 ,
Location:
Exterior,
Views:
Distant sea,
Type of windows:
Aluminum, Glazed,
Type of glazing:
Double glazing,
Garage:
Private (1 Parking places),
Garage type:
Carport,
Hot water:
Individual,
Type hot water:
Electric heater,
Plot size:
300m²,
No. of floors:
2,
Garden:
Private (200.00m²),
Style:
Modern,
Building year:
2018 (1 year/s),
Condition:
New build,
Availability:
Unoccupied,
Equipment:
Refrigerator, Oven, , Water, Light, Water tank, Bathtub, Shower plate.
Este documento ha sido elaborado por Inmobiliaria Precio Perfecto con información descriptiva de la propiedad para su compraventa, arrendamiento o traspaso. Con su aceptación, el destinatario se compromete a no copiarlo, reproducirlo o distribuirlo a terceros, ni total ni parcialmente, sin el consentimiento escrito de Inmobiliaria Precio Perfecto. Inmobiliaria Precio Perfecto, declina expresamente toda la responsabilidad por las manifestaciones, expresas o implícitas, contenidas en el presente documento, por las omisiones del mismo, o por cualesquiera otras comunicaciones orales o escritas hechas a cualquier parte interesada. Esta información no constituye un valor contractual.