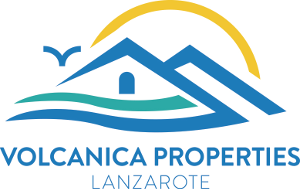 Villa Puerto Calero
2.300.000€ (£ 2.072.072 approx.)
Ref.VOLC-310477 | EUJO
This exceptional property combines luxury, comfort and innovation of the highest order. It was completed in August 2019 in Puerto Calero (Yaiza), on a plot of land of approximately 810 square metres with first line views of the Atlantic Ocean and the marina. The property is divided into two separate houses connected through a hall, each of which offers two large bedrooms, a modern bathroom and additional toilet, a small but high-quality and stylish Italian kitchen and an inviting living and dining area. There are several terraces and balconies which can be accessed from the living areas. The southern house is two storeys high and offers panoramic views over the harbour and the pool. The basement is accessible from the pool and consists of an entertainment room with a pool table, a traditional sauna and a toilet. Next door there is a 40 m2 garage from which you can access the pump and engine rooms. The 40 m2 heated swimming pool is surrounded by sun terraces and there is a shower and a fully automatic pool cover. The undeveloped part of the plot is covered with well-tended gardens with cacti and succulents. All the furnishings and furniture of the houses have been made to measure from the highest quality materials. For example, the cupboards and dressers were built in Italy, the fabrics and covers come from Asia and the decorated windows, mirrors and lamps are from Austria. The innovation is particularly evident in the energy management, as the house is energy self-sufficient and CO2 neutral. There are 14 solar panels on the roof, which completely supply the entire property. This also includes an advanced and energy-efficient air conditioning system with water-operated underfloor heating and ceiling cooling, triple-glazed windows and perfectly insulated walls. The pool cover and heating are also solar powered. All temperature settings can be controlled by remote control, even from abroad, and the safety equipment and kitchen appliances are state-of-the-art from renowned manufacturers. This villa is definitely unique, and not only for Lanzarote. The style is both modern and traditional, timeless yet individual. Those who view the villa will find that every detail has been carefully thought out and planned with great attention to detail. The house is barrier-free and suitable for wheelchair users. The houses have a licence for holiday rentals and are already very popular – not least because of their ideal location in the luxury town of Puerto Calero, just a few steps away from the marina with its famous promenade and shopping mile. Price € 2.300.000. The units are also offered separately at € 1.150.00 each.
Reference:
310477 - EUJO,
Size:
230m²,
Plot size:
830m²,
Bedrooms:
4,
Bathrooms:
2,
Furnished:
Fully furnished,
Garage:
Private,
Garage type:
Closed,
Swimming pool:
Private,
Garden:
Private ,
Lounges:
2,
Built-in cupboards:
Yes,
Furnished kitchen:
Furnished,
Kitchen type:
Independent,
WCs:
2,
Terraces:
2 ,
Balconies:
2 ,
Location:
Beachfront,
Views:
Direct sea,
No. of floors:
2,
Building year:
2019 (2 year/s),
Condition:
Excellent,
Sport facilities:
Sauna.
Volcanica Properties
35560
Lanzarote.
(+34)679.906.475
https://www.volcanicaproperties.com/
Documento elaborado por Volcanica Properties con información de la propiedad para su compraventa, arrendamiento o traspaso. Con su aceptación, el destinatario se compromete a no copiarlo, reproducirlo o distribuirlo a terceros, ni total ni parcialmente, sin el consentimiento escrito de Volcanica Properties, que declina expresamente toda la responsabilidad por las manifestaciones, expresas o implícitas, u omisiones, o por cualesquiera otras comunicaciones orales o escritas hechas a cualquier parte interesada. Esta información no constituye un valor contractual.